Conference
For the last three years, we have provided a conference for all of our teaching staff. The subject matter always changes but is focused on innovations in teaching practice supporting everyone to provide the most up to date approaches to our children.
Past subjects have included
Great Learners - Growth Mindset.
Philosophical Teaching and Learning
This year will be lead by Will Ord who supported our very first conference. Our focus will remain on Great Learners again but this time look to how metacognition & mindfulness can help your pupils enjoy and improve their learning.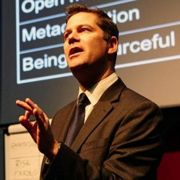 Will Ord
Will has trained teachers in over a thousand primary and secondary schools all over the UK and in twenty-five countries. Drawing on 30 years of meditation practice and work in schools, Will Ord gives teachers a "no-nonsense" practical guide to developing key learning capacities (attention, self-regulation, wellbeing etc.) with children and adults.
Will has also given keynote speeches at national and international conferences on many aspects of teaching, learning, school development, and education in the 21st century.
Will has been working full time in education since 1996. As Chair of the Educational Charity SAPERE (2003 – 2006), and as a Professional Officer for ACT - the Citizenship Education Subject Association - (2002 - 2004), Will gained invaluable experience working with the DfES, the QCDA, LAs, Ofsted, AREIAC, the Citizenship Foundation, as well as many primary and secondary schools. Will has also been an author of several text books for students and teachers, articles for magazines and journals, and was a regular writer for the TES. He was also an Associate Lecturer at Oxford Brookes University.
The day is exclusively for Aquila staff and governors.